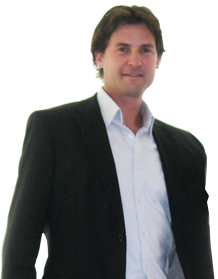 Welcome
David Burns is an environmental chemist with expertise in laboratory data audits, green chemistry, and industrial ecology. David is available to help business & professionals integrate sustainable supply chains and energy efficiency into service offerings. The following blog topics are intended to invoke awareness and/ or action in Going-Green. You are also invited to create a Free Whoisgreen business profile using the link above. David Burns is a NSC member of the Rocky Mountain Institute.
Sustainability Starts at Home
Posted by
David Burns
|

2

Comments
|

Agree (

14

)
|

Disgree (

0

)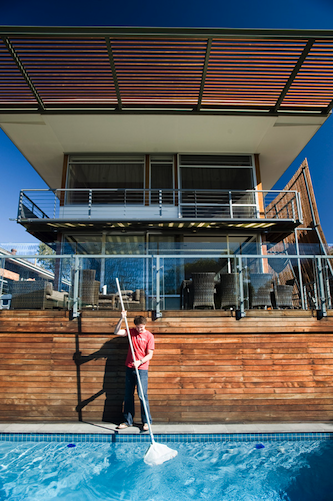 Our sustainable home incorporates design, energy efficiency, renewables, and only relies upon mechanical solutions where there are no other alternatives. Read how our home started as seven written values on a piece of scrap paper.
Completion Date: Mar 2007.
Demolition & Construction: 14 months.
My passion for sustainable homes and design in buildings, lifestlye choices, and business stems from my environmental chemistry background. Through my business, I was able to understand how easily landscapes are compromised, and what it takes to clean up contamination. I have always held a strong connection with the environment through my surfing and scuba diving, and had always expected others to step up and take responsibility for the big things like climate change and sustainability. I quickly realised that I must take responsibility for my impacts on the environment - starting with the way I live and transforming my house into a sustainable home.
My sustainable home began as a series of values described by seven broad categories: Biodiversity, Water, Energy, Design, Waste, Building Materials, and Monitoring. My values were expanded into short bullet points to demonstrate how I planned to achieve our values.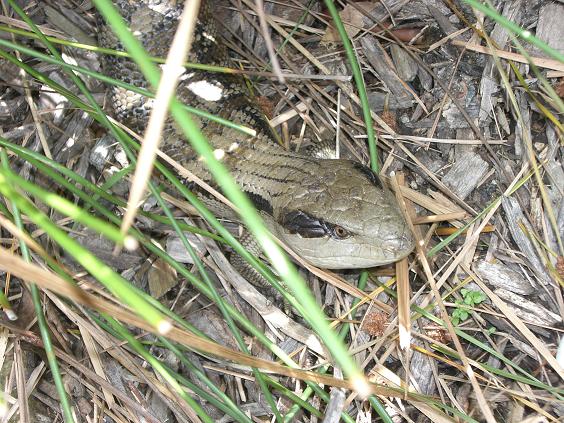 Biodiversity: prioritise native landscapes that restore indigenous habitat, and attract/ protect local wildlife.
Sustainable homes make allowances to revitalise the landscape including increased neighbouring offsets to a generous 4m width and mass planting with nursey grown native plants. A 20m long water feature was added to attract local fauna such as frogs, lizards, and birds (ie. five prefabricated feed troughs stacked end to end down the property slope). Sandstone sculpture was matched with the native theme to compliment the colours of folage and flowers (sandstone artwork provided by local stone artisan, Chris Bennets of Ishi Buki). Key aspects were:
1. Mass planting of native plants (low maintenance & water wise). Green offcuts are composted or mulched directly into the garden.
2. Garden watered with rainwater via drip irrigation system.
3. Avoidance of pesticides, and reliance on worm-tea and mulching.
4. Selection of plant colours f& textures to reduce the scale of home on street scape.
5. Tree stumps and trunks cut down from underneath power poles and council managed parks were positioned to provide habitat and points of interest in the garden.
6. Termite activity managed via 28 in-ground monitoring stations and inspected by the local pest control company every 3 months. Chlorfluazuron is the non-toxic treatment chemical which is safe to people, birds, lizards, and worms.
Water: is an essential resource for all living things. Water efficiency & harvesting shall be prioritised, not wasted.
Sustainable homes divert rainwater via harvesting into gardens and ponds and appliance functions. Rainwater is stored in a series of connected tanks (20,000l). Rain that falls on the garden is slowed and retained by landscape swales. Mains water is plumbed for taps and showers, and includes a Royal Doulton porcein filter dispenser in the kitchen for drinking. Toilets are flushed with treated greywater (DGTS 2,600l) collected from showers and hand basins (the emboddied energy to provide highly treated drinking water to flush toilets seems to be an obscene waste). In times of drought, the greywater system can suppliment the rainwater storage to ensure the garden is always healthy and looking great, noting that continued reliance on greywater with native gardens requires caution! Other key aspects were:
1. Water efficient appliances with high star ratings (smart flush toilets, washing machine, dish washer, kitchen tap with trigger handle, shower heads & taps).
2. High quality pool blanket to prevent evaporation (no need to heat it with solar thermal or gas).
3. DGTS registered withthe health department to flush toilets, and one that automatically switches to mains supply if it runs dry or fails (back flow restriction device fitted to protect the home & street mains supply).
4. Large 200m2 roof to capture free & clean water, cool the home and windows.
5. Gravel driveway to slow sheet water and divert into garden.
6. Crushed sandstone rubble as the landscape base material (natural water retainer, no need for water saving crystals).
7. Top pool up with rain water.
8. Regret not connecting one shower to the rainwater tank.
Energy: live within our natural solar budget for electricity & heating needs.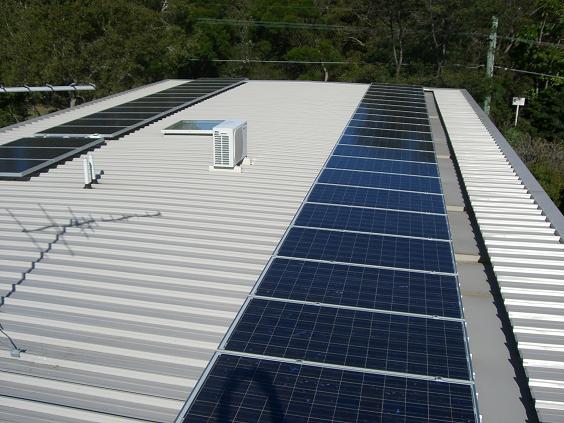 Working from my sustainable home significantly reduces the impact of driving to work and occupying a workplace environment. Lighting after dark is a combination of IRC halogens (35W), fluoros, and Galaxy LED's for laundry and access areas requiring illumination for long periods of time each night. All wall cavities and ceiling spaces have been insulated with themal insulating material. I am a strong believer in heating the person rather than directing large amounts of energy in heating the air space inside a home to effect the same outcome - this means heating the home to a responsible point, then dressing & using blankets if extra warmth required. Other key aspects were:
1. Inclusion of a balanced grid connected PV Solar system. Our budget could not afford this at first, so we installed a 1.8kW system for the first two years. Then we added the balance of solar power needed to increase the energy generating capacity for our home to 6KW (calculated energy neutral position using the energy bill summary)

2. Maximise cross ventilation using lourves, ceiling fans, thermal mass (concrete floors and 30% walls), and 4 x huge 3m wide sliding doors to open home.
3. Maintain and control inside temperature comfort with a climate control chimney (stair well).
4. Maximise roof eaves (1.8 - 2m wide).
5. Shield the home with timber battens.
6. Heat the home with hydronic floor heating (gas - future plan to connect solar thermal boost in 2010).
7. Gas is the secondary source of energy to supply our hot water and oven cook top.
Design: assign an expert who can make the space become our preferred place to share with friends & famiy.
The design for my sustainable home is a simple repetition of multiple 3m x 6.6m grids, using steel, LVL timbers connected to a concrete core. The position of the home was centred in the middle of the 584m2 block of land to allow nature cooridoors to be featured along both long boudaries, creating perspective, shading, & privacy. The mass planting of mostly indigenous flora aslo functioned as an example of an eco-effective front fence. Central to the design of such a narrow home, was the layout of the rooms, use of high ceilings & large windows that look into the nature cooridoors. We also minimised the use of hallways. Other key aspects (in order of priority) were:
1. The size and scale of a sustainable home must be <250/280m2.
2. Inclusion of 4m wide nature corridors the full length of both long property boundaries.
3. Plan lifestyle areas.
4. Use ceiling height to create the illusion of space in a narrow home.
5. Allow fresh air to circulate in summer and winter (we did not to seal the home).
6. Minimise hallways to maximise room dimensions.
7. Utilise natural light rather than light bulbs.
8. Utilise natural ventilation (climate control chimney), and avoid air-conditioning
Waste: minimise the ampount of waste destined for landfill.

The waste from my sustainable home to be collected and recycled, other than general garbage:

1. Paper.
2. Aluminium, glass, and drink cartons
3. Compost bin.
4. Worm farm.
5. Green garden off-cuts for mulching.
Building Materials: prioritise recycling & reuse. Avoid harmful chemicals.
We did not write down a list of materails to be recycled into our sustainable home and therefore this was not done well. The house was designed to standard sizes of materials to reduce off-cut waste & save on labour. Softwood timbers (oregan) from roof trusses were salvaged from the demolished house, ripped in half to produce two equal sized battens and erected along the entire western facade to shade the home from the summer sun. We expect this screening element to last at least 10yrs. Hardwood timbers were also salvaged (floor bearers), nails removed with an angle grinder, and then used to support the new outdoor decking. The stove from the old demolished house was salvaged and new stainless steel front panels replaced where they were badly scratched. Scars in the off-form concrete were not repaired, but instead were left intact as features to be admired similar to those found on tree trunks & large sandstone boulders in adjacent bushland. We avoided construction of two internal gyprock walls (between bedrooms & upstairs hallway) by using double sided wardrobe joinery to effect room divisions. Marine ply balustrade installed throughout home. The garage door was sourced as a brand new unwanted order from another homeowner. The entire garden comprises of 45m3 of crushed sandstone rubble from a local development site, 15m3 low P native soil, and approximately 40m3 of recycled mulch material (includes timber pallets, plastic wedges) from ANL. Other key aspects were:

1. Avoid CCA timbers.
2. Reuse of origan & hardwood timbers for decking frame work and the western screening element.
3. seconds oven, garage door.
4. Regret using PVC pipes.
5. Regret not using FSC joinery timbers.
6. Regret not using double glazing on the western side windows (was a budget decision)
Monitoring: good choices are founded by measurement, and provide an opportunity to save.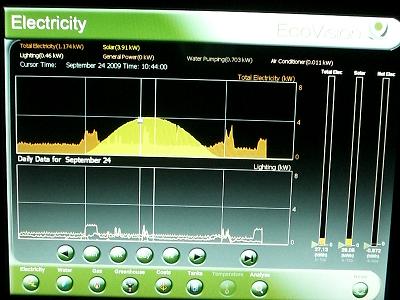 The basic principle required to manage something means it must be measured. In our sustainable home, we monitor our utilities (electricty, gas, water) via a 15" touch screen monitor mounted centrally on the living room wall that is easily accessible. The individual utilities that the system monitors in real-time via graph & numerical display is as follows: Key aspects were:
1. Electricity Consumption & Costs Incurred
a. Total electricity.
b. General power.
c. Lighting.
d. Water pumping.
e. Air conditioning (we recently installed a single unit in ensuite to counter hot morning sun until gum trees outside mature).

2. Electricity Generation
a. Total photovoltaic solar electricity generated.
3. Net Electricity Billed.

4. Water Consumption & Costs Incurred
a. Sydney mains water
b. Rainwater
c. Treated greywater (DGTS)
d. Hot water

5. Tank levels
a. Separate rainwater tank capacity & treated greywater bladder level remaining
6. Gas Consumption & Costs Incurred
a. Total gas usage
7. Carbon Emmisions Calculator
a. Calculation using total gas & electricity consumption data
All utilities shall be monitored in real time to provide accurate consumption data.
David Burns is a Sustainability Advisor and Analyst, www.sustain450.com.au
If you have friends that would like to read this, then